Where you can become a
Digital-Professional!
We offer high quality Digital Electronic Components for the digital control of model-railways as low cost kits or fully tested finished modules at very competitive prices.
| | | |
| --- | --- | --- |
| kit (-B) | finished module (-F) | finished module in a case (-G) |
The good news in advance: we are still available for you. We are presently not directly affected by the Corona pandemic and have therefore implemented some anticipated measures in the company. We have so far been spared from the direct outbreak within our area and are doing our best to process your orders and have them delivered as quickly as possible. If delivery delays occur due to the circumstances, we count on your understanding and patience. The service hotline is also available to you unchanged.
Take care of yourself, stay healthy!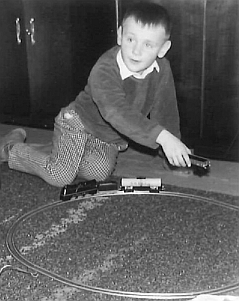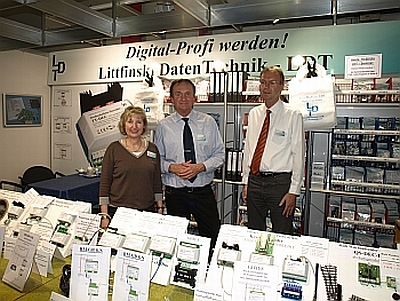 When I, Peter Littfinski, started as a carpet-model railroader in 1962, I had no idea that from 1995 on I would successfully develop and market components for digital model railway systems from the Digital-Professional series with my company Littfinski DatenTechnik (LDT).
For the first time, my wife Birgit and I presented my products at a trade fair on the Hamburg model-building days from 21 to 23 November 1997. This extended to almost 100 trade-fair participations, where we explained the use of our products to thousands of model railroaders, often supported by my brother Jürgen, and also held seminars for the implementation of our products.
As early as 1998 we "built" our first web site and since the spring of 2001 we have been equipping the Miniature Wonderland in Hamburg, the world's largest digital model layout, with our digital components. In addition to public display systems, model railway clubs and private model railroaders also use our high-quality digital modules, which are created in my company in Heist, with up to 10 employees, and are sold from here directly or through specialist retailers.
After 47 years of work (including apprenticeships and studies), with more than two successful decades in the model railway industry, I now want to step shorter. For example, I sold Littfinski DatenTechnik (LDT) to Bühler electronic GmbH in Fredersdorf, near Berlin, on February 1, 2019.
The company Bühler electronic has been established in the market as a manufacturing and development service provider for years and has been offering components for the digital control of the model railway under the LSdigital brand since 2012. The centerpiece is the specially developed μCon system. Rolf Mörsdorf, the managing director of Bühler electronic, is therefore already known to many model railroader for his activities in this branch. Bühler electronic will continue in marketing the proven Littfinski DatenTechnik products and develop new interesting products for both established brands through synergies with LSdigital.
Dear model railroader and model railway dealers,
I would like to express my sincere thanks for your loyalty and your trust and the many good wishes with which you said goodbye to me by phone or e-mail and also personal from 4. to 7. April at the Intermodelbau in Dortmund.

Please also give your trust to the model railway team of Bühler electronic, with Mr. Mörsdorf (pictured below right) at the top. I can assure you that he will do everything he can to continue the good and successful cooperation.
Yours
Peter Littfinski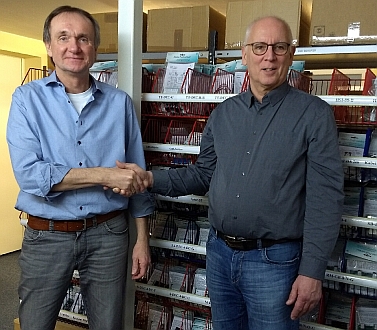 for the

Märklin-Motorola-Format

(e.g. Märklin Digital~, Märklin Systems, Intellibox, EasyControl, ECoS, DiCoStation, KeyCom-MM, EDiTS, EDiTS Pro).
for Märklin

Central Station 1

,

Central Station 2

,

Central Station 3

and

Central Station 3 plus

. With reason to the possible external power supply and the inclusion of a galvanic separation between digital electrical circuit and the power supply is an application at the Central Station 1 (60212), 2 (60213/60214/60215), 3 (60226) and 3 plus (60216) possible without any problem. Sample connection for downloading can be found

here

.
for the

DCC Digital-Controlled Layouts

(e.g. Lenz Digital Plus, Tillig-Digital, Arnold Digital, Digitrax, Märklin Digital=, Roco Digital, LGB Digital, Intellibox, TWIN-CENTER, PIKO digital, EasyControl, ECoS, DiCoStation, KeyCom-DC, Zimo).
LDT-Decoder from the

Digital-Professional-Series

are multi protocol compatible. For this feature stays this sign.

The application is also possible on multilingual programming, e.g. on the Intellibox and on the TWIN-CENTER, on the EasyControl and ECoS. \ The digital format from Märklin-Motorola, DCC, FMZ and Selectrix can be used as single or mixed system.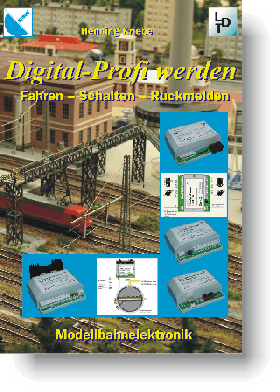 Driving – Switching – Feedback
Author: Henning Kriebel
Sample of contents:
Short and understandable: digital data transfer;


No problem: two- or three-conductor systems within the digital controlled operation;


Booster on small and bigger layouts;


Switching of turnouts, signals and illumination;


Control of turntables;


Feedback reports of two- and three-conductor systems;


Fast feedback reports via High Speed Interfaces (HSI);


Simple solutions of reverse loop problems.

And many more issues.
164 pages with 171 illustrations and 10 graphics
(available in German language only!).

Available ex warehouse.

> To product description: Be a Digital-Professional

Comfortable PC-Layout- and Ambient-Room-Light-Control:

Light@Night

.

LDT Digital-Compendium:

The

first chapter

contains the

3 ring conductors

of every digital layout as well as the required

wire cross

sections and the

switching of the first turnouts

. The

second chapter

contains our

Light Signal-Decoders LS-DEC

.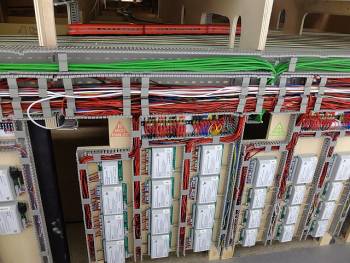 Beside private Model-Railroader and Modelrailway-Clubs, there are using as well many others Model Railway Layout Exhibition our high-valuable and reliable Digital-Components for "Driving", "Switching" and "Feedback".









More than 2500 LDT-Digital-Professional-Series Components are assembled and in action (below and behind) at the world-wide biggest model railway layout MiniaturWunderland at the Hamburg Speicherstadt in Germany!