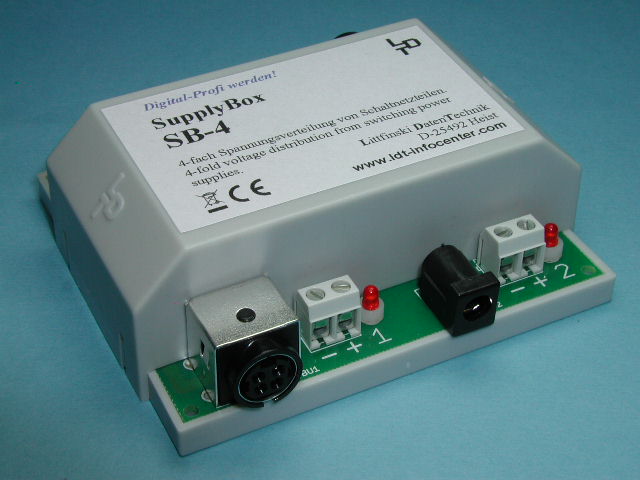 Nowadays the classical model railway transformer will not be used anymore. As a replacement will now be switched mode power supply units used. The advantage of these units: they have a considerable higher efficiency and supply an electronic stabilized output voltage
The handling of these units is a little more difficult for the model rail roader. There is no clamp for the installation of the supply wires available at the switched power supplies. The switched mode power supplies have a connected plug which shall probably not to be removed.
The alternative will be SupplyBox SB-4. This unit contains two sockets suitable for the plugs of the Märklin Switched Mode Power Supply 60061. Two further sockets are available for the connection of 5,5×2,1 mm round plugs of various switched mode power supplies.
There is a 2-pole clamp next to the sockets for the direct voltage of switched mode power supply units. Here can be the two poles of the supply wire easily connected. Therefore is it possible to connect the different electric and electronic component of the model railway layout.
The red LED next to the clamps will glow if the switched mode power supply units will supply a voltage.
An application sample is the direct current supply of the Decoder M-DEC for motor drives from one switched power supply unit DB-4-PowerSupply. Therefore shall be the drive voltage of the turnout drives adjusted at voltage regulator of the DB-4-PowerSupply between 15 and 24 Volt suitable for the motors.
The SupplyBox SB-4 is available as a kit (-B) or as checked finished module (-F). Suitable assembly material and an empty case LDT-01 for the kit is available under Accessories.
Each SupplyBox SB-4 will be supplied with a detailed operating-/ assembly instruction. Those instructions can be found within the next section
The finished module comes with 24 month warranty.
Sample-connections regarding this article can be found here: Sample-Connections SupplyBox SB-4.
Sample-connections for all LDT-Components can be found here: Overview Sample-Connections.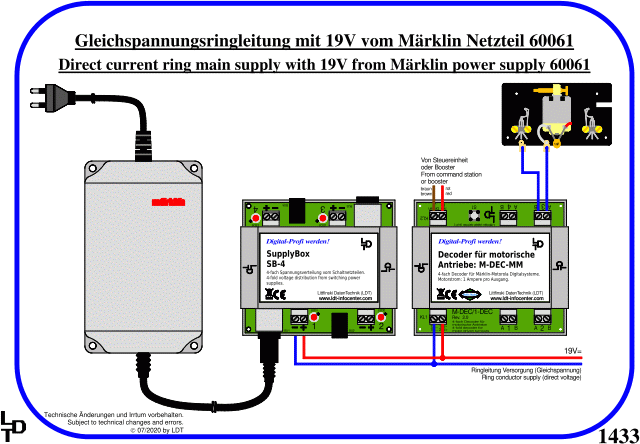 Attention: Products can only be added to the Wish List, if you are registered as customer at the LDT WebShop or if you are initially registered by interest of our products.

Add to Wish List SB-4-B (Part-No.: 600601): SupplyBox SB-4 as a kit (22,90 €*).
Add to Wish List SB-4-F (Part-No.: 600602): SupplyBox SB-4 as a finished module (30,50 €*).

* All prices incl. VAT, plus Shipping.

Subject to technical changes and errors.
© 2022 by LDT