| | |
| --- | --- |
| | |
| The adapter Adap-HSI-s88-N will be supplied as finished module and consist of three 6-poles socket bars and three RJ-45 sockets for the s88-Busconnection in accordance to s88-N. | The 6-poles socket bars of the adapter Adap-HSI-s88-N shall be connected to the three 6-poles pinbars of the Interface HSI-88, HSI-88-USB or DiCoStation. |
Via the adapter Adap-HSI-s88-N is it possible to connect s88-Feedbackmodules such as RM-88-N, RM-88-N-O and RM-GB-8-N directly via the screened Patch-Kabel to the Interfaces HSI-88, HSI-88-USB and DiCoStation in accordance to

.

The 6-poles Socketbars of the Adapter Adap-HSI-s88-N shall be connected to the three 6-poles Pinbars of the Interface HSI-88, HSI-88-USB or DiCoStation. With this connection are three s88-Bus-Lines of the Interface RJ-45 sockets available for a s88-Connection of the first feedback modules by using the screened patch cable.
| | |
| --- | --- |
| | |
| Onto the three lines of the HSI-88-USB is the Adapter Adap-HSI-s88-N connected. The feedback modules will be connected to the interface by using screened Patch-Cable. | The Adapter Adap-HSI-s88-N can as well be used together with the HSI-88 for the serial COM-Interface. |
The finished module comes with 24 month warranty.
Each Adapter Adap-HSI-s88-N will be supplied with a detailed operating- /respectively assembly instruction. Those instructions can be found within the next section.
The Adap-HSI-s88-N will be supplied as tested finished module (-F).
Sample-connections regarding this article can be found here: Sample-Connections Adap-HSI-88-N.
Sample-connections for all LDT-Components can be found here: Overview Sample-Connections.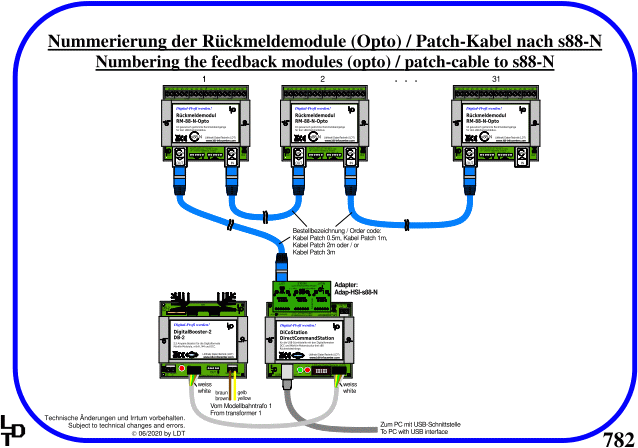 Attention: Products can only be added to the Wish List, if you are registered as customer at the LDT WebShop or if you are initially registered by interest of our products.

Add to Wish List: Adap-HSI-s88-N-F (Part-No.: 038112): Adapter for HSI-88, HSI-88-USB and DiCoStation for s88-Bus-Connection in accordance to s88-N as a finished module (19,90 €*).

* All prices incl. VAT, plus Shipping.
Subject to technical changes and errors.
© 2014 by LDT