Please select the successor module RM-GB-8-N.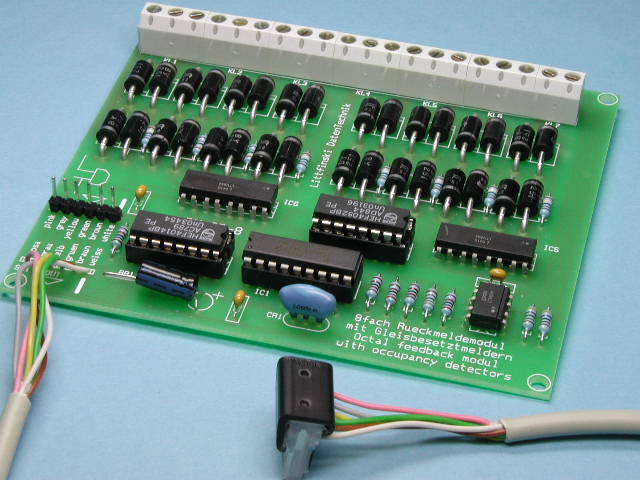 For the connection to: INTERFACE uand Intellibox/TWIN-CENTER (up to 62 units or with standard feedback modules RM-DEC-88 [Opto] / s88 mixed).

Suitable for monitoring of 8 track-sections with current load up to 3 Ampere. Isolated rails or tracks to be monitored have to be connected simply to the output clamps of the feedback module to get digital current supply. The track section can be isolated as 1-pole or 2-pole.

The 8-fold occupancy monitor RM-GB-8 is separated into two 4-fold occupancy monitoring devices. Therefore is it possible to monitor tracks of two different booster circuits. The separation into two monitoring devices allows a simple control of reversing loops.

Including an integrated voltage monitor: Is there no voltage at the tracks (e.g. after a short circuit) the occupied identification will be 'frozen' during the interruption.

For the feedback modules is no additional power supply required. This reduces the wiring effort.

Die Rückmeldemodule RM-GB-8 können beliebig mit RM-DEC-88 (Opto) oder s88–Rückmeldemodulen von Märklin oder anderen Herstellern kombiniert werden.

The feedback modules RM-GB-8 can be combined with RM-DEC-88 (Opto) or s88-feedback modules of Märklin or other manufacturers as required.

We offer at low cost connection cables for the s88-feedback bus

: under the order code

Kabel s88 0,5m

,

Kabel s88 1m

and

Kabel s88 2m

are at 0,5m, 1m respectively 2 meter length interference protected, twisted connection cables available.